Here at Baby Steps we provide Fertility Health Optimisation.
We believe in supporting the body in its innate wisdom to self heal, creating a perfect homeostasis and supporting a natural system to function as intended. To do this we combine digital medical technology and natural treatments. This includes a full health analysis to find out what's going on using innovative medical technologies where we get real time results to discuss together during the assessment and then we do up a treatment plan including acupuncture and bio-feedback therapy along with diet and lifestyle advice, to heal dysfunction and bring back balance. 
You might be wondering why I'm so happy to be holding a box of roses, it's because a box of roses is my why. Let me share the story with you.
After a few years of practicing general acupuncture I decided to give one day a week in ARC Cancer Support house volunteering as an acupuncturist.
I did this for 2 years. Usually I treated the cancer patients for the side effects of the drugs, chemo, radiology etc but this one time I treated a girl for fertility.
She was 35 and had fought breast cancer. She was 5 years in remission and had spent the previous 3 years trying to get pregnant. After 2 sessions with me she came back in the third week with a box of roses and said "I feel silly giving you such a small gift when you have given me the greatest gift in the World, I'm pregnant."
That was the moment that I decided to go into fertility and pregnancy care.
Now I specialise in fertility, IVF support, pregnancy, prebirth, post partum care and all female health matters from menstruation to peri-menopause and menopause. I include mindfulness, nutrition, exercise and Medicinal herbs into my treatments.
So let me introduce myself. Hi, my name is Lisa Morrissey and I am an acupuncturist specialising in woman's health.
I received my Bsc. degree in 1999 and since then went on to study in the holistic field of Acupuncture.
People often ask me how I got into acupuncture. You know I started out as a software engineer for AOL after college. I loved working out  back then and one day I pushed myself too far in the gym and ended up with a hip injury.
I spent the next year spending money like it was going out of fashion trying to sort out my injury. I spent time getting intensive physio in hospital, got a few MRI scans and tried a wide variety of alternative therapy treatments, you name it and spent thousands in the process but they all only offered me temporary relief. Then I heard about acupuncture and thought I'd give it a go. * After 2 treatments my back/hip pain was 90% gone. I love reading and usually read 2 books a week, sometimes  I might have 3 books on the go, depending on my mood at a particular time and so I started reading up all about this fascinating ancient medicine. When I decided to go ahead and study Traditional Chinese Medicine, I already had read about 6 text books and watched many youtube talks on it,
I knew it was for me and that I had found my calling.
This work brings me great joy on a daily basis because I get to help people change their lives and I get to see and experience the euphoric joy in a couple sharing the news with me that they are expecting a baby after a period of trying.
I also get to watch women literally transform before my eyes when they are expecting their first child and becoming mothers.
It is a beautiful thing to see the focus move from 'me' to 'my baby'. From this moment on a woman becomes a mother and has something other than self in this World to put before themselves. This is a beautiful transformation to witness.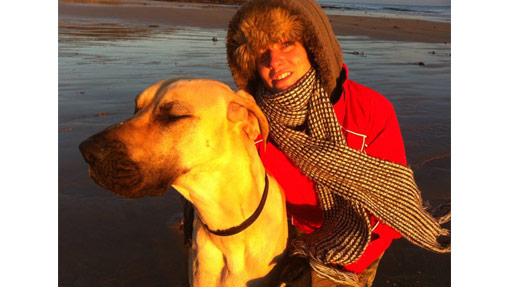 This is not a job or a career for me, it's a passion.
I love my clients and they are so important to me.
I guarantee my full efforts to help you in every aspect of your life to gain your optimal health. I am available at any time for you and this way we get results. I love learning new things and am always improving my knowledge in the field to stay up to date with the most relevant information through courses and seminars.
 I live in Dublin and enjoy hiking, yoga, music, reading and time with family and friends. I love dogs, I even acupuncture them sometimes. Above you can see my Great Dane, Wolthan and my beautiful godchild, Vivian
I am a Member of the AFPA
Acupuncture Foundation Professional Association and the Professional Registrar for Acupuncturists.
The AFPA is recognised by most health insurance providers including VHI, Laya, Aviva, HSF, ESB and Garda Medical Scheme.
Book your appointment now